Angelina Jolie appeared to have completely immersed herself in her character as revealed by the iconic Hollywood A-lister's new look while filming scenes of her upcoming biopic Maria.
Angelina is starring as Maria Callas in the biopic of iconic opera singer, the production of the movie is in full swing as the crew was spotted shooting in Athens last week and now in Katakolo, Greece.
The pictures obtained by the Daily Mail featured the 48-year-old actress accompanied by co-star Haluk Bilginer, who plays Aristotle Onassis, the actress's on-screen lover.
They reportedly filmed a scene on the boat Christina O, designed by Maria's boyfriend, Onassis, and his wife, Jackie Kennedy Onassis.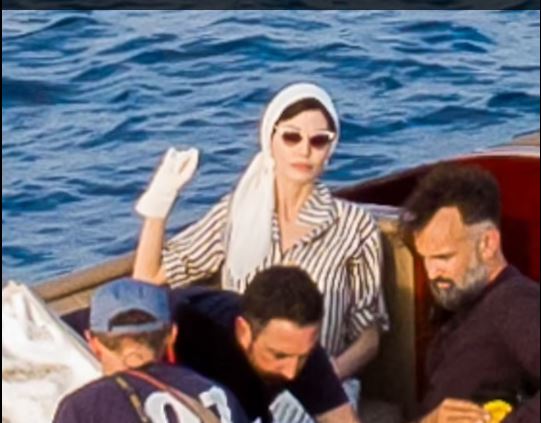 Angelina appeared to be immersed in the character as she was spotted wearing a white headscarf paired with white gloves and a pair of retro sunglasses.
She rocked the set in a black and white striped shirt paired with a white skirt. She chatted with the film crew while being aboard the vintage vessel as they continued filming.
Maria is a biopic directed by Pablo Larrain. It follows the turbulent life and legacy of the iconic opera singer.
It has also been revealed that Angelina will wear Maria's real clothes in the film, including vintage furs.